MEXICO'S COPPER CANYON - 2010
9 days from Cancun to Cancun (GL-YM)
Return to Italy Vacations & Tours
Return to France, Spain, Portugal and Morocco Vacations & Tours
Vacation Overview
Experience the breathtaking scenery of Mexico during this incredible Regional Discovery vacation! Your trip begins in Tucson, Arizona, before traveling south through Tombstone to Nuevo Casas Grande, Mexico. There you tour a local pottery studio, as well as the Paquime archaeological site, the most important archeological site in northern Mexico. Next, travel to Chihuahua to see the 18th-century cathedral, the Government Palace, and the former home of Pancho Villa. Enjoy the natural beauty of the Sierra Tarahumara mountain range on the way to Creel, where you drive through the Valley of the Mushrooms with its strange monolithic formations and visit the cave dwellings of the Tarahumara Indians. En route to Divisadero, visit the giant Piedra Volada, a giant rock miraculously perched on the edge of a precipice, and savor the sunset in Copper Canyon. From here, start your train journey through Copper Canyon on the Chihuahua al Pacific Railway. Marvel at the incredible scenery along the way before arriving in El Fuerte for a walking tour. From there, travel to San Carlos, a Mexican resort community located on the Sea of Cortez. A full day at leisure in this beach resort is the perfect way to relax and reflect on your memorable vacation to Mexico's Copper Canyon!
<![if !vml]>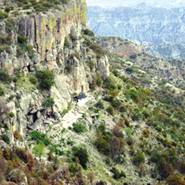 <![endif]><![if !vml]>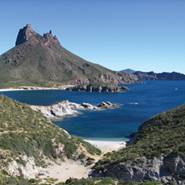 <![endif]><![if !vml]>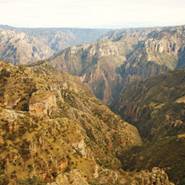 <![endif]><![if !vml]>
<![endif]>
Itinerary
Day 1 ARRIVAL IN TUCSON, ARIZONA
Tucson
Welcome to Tucson! At 7 pm, meet your traveling companions at the welcome reception hosted by your Tour Director. (WR)
Day 2 TUCSON–TOMBSTONE–NUEVO CASAS GRADES, MEXICO
This morning, journey south for a stop at Tombstone, "The Town Too Tough to Die," where you'll have time to visit the OK Corral and wander the streets of this historic town. Afterward, we cross into Mexico at the border towns of Douglas and Agua Prieta. Then, continue to the fertile valley of Casas Grandes. Spend the night in the town of Nuevo Casas Grandes. (B,D)
Day 3 NUEVO CASAS GRANDES–CHIHUAHUA
During the 13th and 14th centuries, pottery was once the principal ware of trade, and this morning includes a visit to a local POTTERY STUDIO. See how the traditional hand-forming and painting methods are still used today. Next, visit PAQUIME, the most important archaeological site in northern Mexico. Once an important trading center, it combines elements of the Pueblo Indian civilization from the southwestern United States with Mesoamerican influences. Continue on to explore Chihuahua, made famous by Mexican revolutionary leader Pancho Villa. Dinner this evening is at your hotel. (B,D)
Day 4 CHIHUAHUA–CREEL
This morning, visit the ornate 18th-century CATHEDRAL, the GOVERNMENT PALACE with its unique murals, and the former HOME OF PANCHO VILLA, converted by his widow into a museum. Head west to Cuauhtémoc, the center of Mexico's Mennonite population, where you'll enjoy a traditional homemade Mennonite lunch. Then, travel through pine forests to the lumber town of Creel, situated at an elevation of 7,500 feet in the Sierra Tarahumara mountain range. There's time this afternoon and evening to explore this quaint town and shop for local wares. (B,L)
Day 5 CREEL–DIVISADERO
Divisadero
After breakfast, drive through the VALLEY OF THE MUSHROOMS with its strange monolithic formations. See the CAVE DWELLINGS of the Tarahumara Indians, famed for their colorful tribal customs and prowess as long-distance runners. Afterward, it's a special visit to a local kindergarten and elementary school to learn more about the children and their culture in this remote area of the world. Depart for Divisadero and catch your first views of the spectacular Copper Canyon. Enjoy a visit to PIEDRA VOLADA, a giant rock miraculously perched on the edge of a precipice. Tonight, savor the sunset as it colors the canyon walls and leaves you with some remarkable memories and photos. (B,L,D)
Day 6 DIVISADERO–COPPER CANYON TRAIN–EL FUERTE
This morning, relax and enjoy the solitude and beauty of Copper Canyon. You may choose to join an optional hiking trip along the rim or perhaps an optional horseback riding excursion. After lunch, embark on your rail adventure through El Cañon de Cobre. Experience some of North America's most magnificent scenery as your TRAIN winds its way along the rim of steep chasms, descends mountain passes reaching 7,000 feet, and crosses canyons and rivers. Dinner this evening will be at your hotel. (B,L,D)
Day 7 EL FUERTE–SAN CARLOS
For three centuries El Fuerte has been an important commercial and agricultural center. We'll start the day off with a short walking tour of this picturesque colonial city and see the plaza, city hall, and colorful market place. Then, head north along the Sea of Cortez, reaching the resort of San Carlos by late afternoon. Just a short drive from the old port of Guaymas, the Bay of San Carlos is rich with fish and seabirds, and its many beaches attract visitors from around the world. The remainder of the day is yours to relax on the beach, take a dip in the pool, or enjoy a cool drink while watching the swaying palm trees. (B)
Day 8 SAN CARLOS
Today is at leisure. Enjoy a relaxing stroll along the beach, take an optional fishing excursion, or join us on an optional boat ride on the pristine waters of San Carlos Bay. While keeping an eye out for dolphins and other marine life, enjoy complimentary margaritas, soft drinks, and snacks. Tonight, a farewell dinner celebrates your Copper Canyon adventure. (B, D)
Day 9 SAN CARLOS–TUCSON, ARIZONA
Arizona
Head north to the United States today and pass through the Sonoran capital of Hermosillo. Cross the border at Nogales and transfer to Tucson International Airport. Please schedule your homebound fight after 7 pm. (B)
AIRPORT TRANSFERS
Airport transfers may be included when you make your international flights arrangements.
Dates and Prices
Departure
Details

Departure
Date

Tour
Start Date

Return
Date

Land/Cruise
Price Only

Status

3/7/2010

3/7/2010

3/15/2010  

$1,689.00

Available

9/12/2010

9/12/2010

9/20/2010

$1,689.00

Available

9/26/2010

9/26/2010

10/4/2010

$1,689.00

Available

10/10/2010

10/10/2010

10/18/2010

$1,689.00

Available

10/24/2010

10/24/2010

11/1/2010

$1,689.00

Available

11/7/2010

11/7/2010

11/15/2010

$1,689.00

Available

2/10/2011

2/10/2011

2/18/2011

$1,799.00

Available

3/6/2011

3/6/2011

3/14/2011

$1,799.00

Available

3/20/2011

3/20/2011

3/28/2011

$1,799.00

Available
Popular Departure - due to itinerary and time of year, this departure historically sells out quickly. Early booking is encouraged.